The McCanless Men`s Golf Association gets together several times a week to enjoy some laughs and some good competition.
Sundays @ 8:00am
Sunday mornings typically sees anywhere from 5-6 groups of guys playing various formats of team competition including Stableford, Best Ball, etc.
Wednesdays @ 5:30pm
Wednesday afternoons the men gather for a 9-hole individual game. Typical participation for Wednesday afternoon play is 3 to 4 groups. The cost for this Association sponsored event is only $10 for non-members and $5 for members of the golf club. Please call the pro shop by 5:000pm to let everyone know that you are coming!
Benefits…
Recieve special rates on Wednesday afternoon play, Handicap service provided by Carolina`s Golf Association (USGA), special tournaments just for Association members, tons of laughs and good times
Being a part of the Men`s Association at McCanless is more than just playing golf with a group- it`s being a part of a group that cares about golf, about McCanless and most importantly about each other.
Yearly Dues for 2020:
$20 for full membership includes USGA Handicap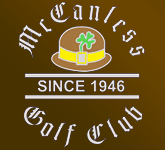 Location
3515 Stokes Ferry Rd.
Salisbury, NC 28146